Ah, another day, another 'hey do u do collabs' DM on Instagram. It's not that there's anything wrong with that approach, it's just that even for a small brand like us, we're inundated with these kind of messages - and we just don't have the time to check out each and every request, or the volume of products to gift everyone who gets in touch. We've also had a few quite interesting individuals trying to get things through less scrupulous methods recently, so it seems timely to revisit and update this blog Catherine wrote back in 2014 order to save everyone a bit of time! - Lydia
Who doesn't love a freebie? I know I get suckered pretty much every time I walk through the doors of Hotel Chocolat because of this! But knickers aren't chocolate, so we can't offer everyone a tiny piece to get the taste buds singing.
And thus, though we might love your look/photos/blog/photoshoot idea, if we gave away an item for free to every model, putative model, alternative model, pin-up model, ex soap-star, blogger, assistant picture editor of a small magazine, lighting directors friends dog-walker etc etc, that asked, I'd be out of stock and bankrupt in about 3 weeks. Maybe 6 at a push? Also, we are not a publishing house for free pictures of ladies in scanties, no matter how often you request a catalogue.
Mostly, we believe in rewarding awesome Deadlies - loyal customers and/or mega fans - over people who have never tried us or mentioned us before. So the absolute dead cert way to get a freebie? Join the mailing list, and buy when we do free gift offers, we do mystery free gifts, with the odd offer in between. We also often pop in things like free postcards and gift bags just for fun (chat-up card shown above!)
You'll also accrue points to spend with every order.
Oh, and if you are a regular? We're a small enough team that we will recognise your name, so you're likely to get a few more than are contractually committed to gifts.
So let's say you're not a customer. How can you get a freebie?
Work for us. You've heard about how the fashion industry uses and abuses interns, yes? Well, ours get vouchers or garments to take away (also, in a shocking departure from tradition, we frequently teach people things along the way). You might end up doing a coffee run or counting knickers or stuffing envelopes, but we can always afford to hand you more in stock than we could in cash. Plus you'd probably get a choice of products.
We pay Ayten (Gasson) for sewing, but she does also nab some extras along the way.

Request it for charity. Every year we send out dozens of products for charity raffles, auction, tombolas etc. There are limits (no, we won't send you 4  £180 corsets for a sweaty pub environment just because you promise to send 3 back), and we do check you have a registered charity number and aren't problematic, but mostly we're very cheerful about sending things out for this reason.
Request a short term loan of a sample sized garment. Like libraries, short term means 3 days, maybe 7-10 at a push if its far far away or a review. And yes we will take a credit card number, and we will charge you if it doesn't come back or comes back broken or stinking of cigarette smoke; welcome to the standard system for fashion mags. Obviously, not everything is always available.
Lady Ginger Lust is NOT sample sized, but has lucked out by having the same measurements I do, width wise, so she swipes my personal collection.
Request a loan or a gift for an AWESOME shoot. But listen, what you, Maz and myself define as awesome is going to be different. You've got a boudoir or pin-up shoot you're super excited about? Great! Some of those photographers have a code so you can buy at a discount from us. But what I'm looking for is something ground-breaking, something that'll get a discussion going - my favourite shoot last year was for Diva mag. Or, I'm looking for something that'll convert to sales, and that isn't predictable - our best sales ever were after we got a one line mention in the Guardian! (Just don't tell Vogue, OK?) For Maz, who is a pro on the serious press front, she's looking for publication, publication, publication, to build up our coverage portfolio, playing the long-term fashion game.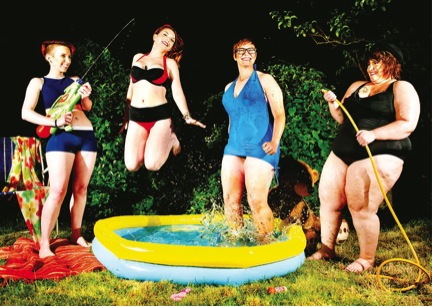 Request a loan or a gift after you already featured us somewhere. That means we know you're genuine, and I prefer to have reviews and fans online that are genuine rather than paid for by freebies, you see? It's better for the customers if it's real. It's ok if you say such and such a garment doesn't suit your body type, or you  didn't like the stitch detail, or whatever. I'd rather that than see a dozen anodyne "I'm writing this because it was the only way I could afford to try this brand so now I have to say something positive" reviews. Plus, if you're lucky, we'll have seen your writing or picture convert to visitors to the site or, hopefully sales, though that's rare.
Photo by MadeInEighty, MUA ari.barbie, look styled by Cora
I should warn you though, it is rare that we send gifts to blogs that are smaller than The Lingerie Addict (who is always very clear when she's been given a free gift and won't review them), unless you have something really specific going on, like Curve Creation who demonstrates how foundationwear creates a specific silhouette when dressed.
Come to an event. We're not snooty about our press events and there's usually public access for some or all of them. If you've made the effort to come out and play, chances are we'll have a pile of freebies in the corner.
Or you could join House Of Burlesque, who get both custom and standard outfits from us!
Last but not least, just keep an eye out, as every year we run giveaways and competitions and some of them simply require you to wave your Deadlies in the air like you just don't care, all over the internet, which is pretty easy, and then get lucky, which is much trickier.
UPDATE:
Methods we don't recommend include, but are not limited to:
claiming card fraud for items that you had delivered to your wife, then doubling down and then asking to access your reward points for the 'fraudulent' order;
 emailing us to ask if you can have the products for free because you can't afford to buy them at the moment, then getting bratty when you don't receive an instant reply; 
contacting us posing as a celebrity instagrammer, and thinking we won't verify with them before we send the goods out. We're a small business, and we've got a good nose for a scam!